URight TD3128
URight TD3128 is an extremely simple to use blood pressure monitor: put the cuff around the arm and press start to take a reading.
The result is shown on the large LCD display.
URight TD3128 takes blood pressure while inflating the cuff which makes it a more comfortable and faster test.
The device can be linked to the PC for data-analysis. The TenSoft software can be used to transmit the test results to the WiPaM telemedicine platform.
URight TD3128 can be used simultaneously by 4 people, each with his own memory slot in the device.
Share readings with a doctor
Tensoft, the software for the URight TD3128, permits to upload blood pressure results to the secured WiPaM telemedicine platform so they can be consulted by a physician.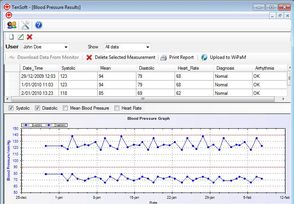 Specifications URight TD3128 Blood Pressure Monitor
precise measurements using oscillometric method
simple to use
extra large display
up to 4 different users
memory for 400 readings with date and time
USB cable for data transfer to PC
software with trend graphs
works on 4 AA batteries
weight: 350g (without batteries)
dimensions: 141 x 121 x 72mm
IHB detection
ESH validation (equal to TD3124)
CE and FDA validated