COVID-Influenza Rapid Test
The AMP CoV-2 Ag - Flu A+B rapid test is exclusively distributed in Belgium by RDSM. The combination test makes it possible to detect both SarsCov and influenza A and B with 1 sample.
In addition to the classic COVID-19 rapid test, the rapid test also contains a separate test strip for influenza. It is enough to drip into each sample well and after 15 minutes you will know with which virus someone is infected or not.
The AMP SARS-CoV-2 Ag rapid test has been validated by the FAMHP. This COVID-19 Ag rapid test meets the conditions for reimbursement according to the indications of the RIZIV/INAMI. In addition to this COVID test, you can therefore also detect influenza.
The COVID rapid test detects all known variants of the virus.
Test procedure COVID19 - Influenza rapid test
The test is extremely easy to use:
Prepare the buffer
fill the extraction tube up to the mark (15 drops)
Take the sample
Perform the nasopharyngeal sample
Put the sample in the buffer
place the sample in the buffer immediately after the stand name, rotate at least 6 times while pressing the sample against the edge and bottom - leave the swab in the buffer for 1 minute
Remove the sample from the buffer
Squeeze the moisture out of the swab through the walls of the tube while removing the sample from the tube
Apply the dropper
Put a new dropper on the extraction tube
Open the test cassette
Open the package of the test cassette and place the cassette on a flat and solid surface
Put the sample in the cassette
Add 4 drops of the solution to both sample wells
Result
Read the result after exactly 15 minutes
Interpretation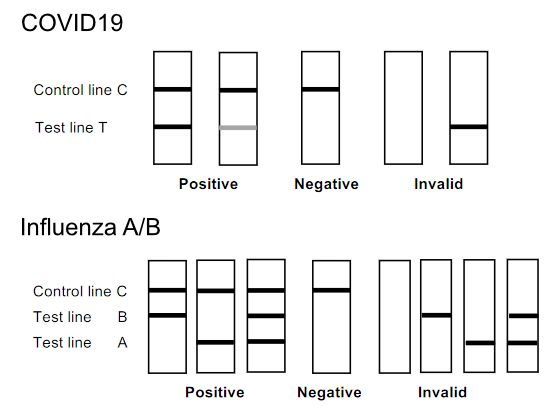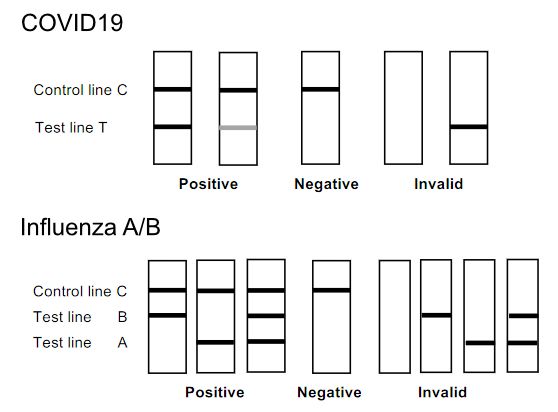 1 box of AMP Rapid Test CoV-2 Ag - Flu A+B contains:
25 test cassettes
25 sterile swabs
25 extraction tubes with dropper cap
2 bottles of buffer liquid
reagent holder
manual
The use of this test is reserved for professionals.
Specifications COVID19 - Influenza Rapid Test
| | | |
| --- | --- | --- |
| | Specificity | Sensitivity |
| Sars-Cov | 100% | 97.3% |
| Influenza A | 96.4% | 92.6% |
| Influenza B | 95.8% | 90.0% |