CardioFlex - Stress EKG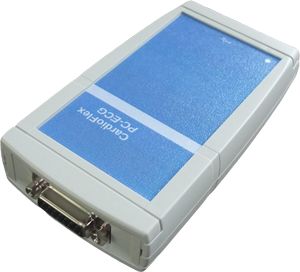 CardioFlex is a 12-lead stress ECG with extended features.
CardioFlex can be installed in a network and even over the internet for telecardiology.
CardioFlex has the possibility to record the Franck leads for 3D vector cardiography.
The device has internal isolation that can even resist electroshocks from a defribillator.
Wireless ECG
CardioFlex is available in 2 versions: CardioFlex USB and CardioFlex WiFi.
CardioFlex USB is powered by the computer's USB port. CardioFlex WiFi has an onboard rechargeable Lithium battery that can be charged by the USB port. The WiFi version can be connected both bu USB and by WiFi.
CardioFlex software
The CardioFlex software is equiped with special filters that can also allow for stress testing.
The automatic diagnosis is included by default and can now also recognize ECG's from athletes according to the most recent Seattle criteria.
The software can calculate the median QRS complexes and offers a diagnosis of the ECG recordings. The database allows to store an infinite amount of ECG recordings that can be reviewed at any time. It is even possible to compare selected recordings and selected median QRS complexes.
The stress test option allows to perform a complete exercise ECG with automatic calculation of ST-trend and ST-levels.
The CardioFlex software is able to command the threadmill or ergometer bicycle.
Several links with external software like EHR and telemedicine software are available, eg.: HL7, SCP, XML and GDT.
The software is extremely flexible and configurable.
CardioFlex mobile applicatin
CardioFlex WiFi can be connected to any android device running android version 4.0.3 or more recent.
More information
Please visit our dedicated CardioFlex website for more information.