COVID-19 Antigen test
The COVID-19 Antigen rapid test allows rapid detection of SARS-CoV-2 via a nasopharyngeal or oropharyngeal sample.
The test detects viral nucleoprotein antigens by lateral flow chromatography.
The COVID-19 Antigen rapid test gives a result with excellent specificity and high sensitivity at high viral load in 15 minutes.
De test wordt verkocht per 20 stuks met alle benodigde test-componenten, inclusief steriele swabs.
There is no cross-reactivity with other pathogenic human coronaviruses (such as hCoV-229E, -HKU1, -NL63 and -OC43) or influenza viruses.
Test Procedure
The test procedure is simple: take a sample and place a clean extraction tube in the supplied holder.
mix the buffer by swirling the bottle gently
add 10 drops of buffer liquid to the extraction tube
insert the swab with the sample into the extraction tube and rotate while pressing the walls of the extraction tube against the swab 10 to 15 times (to extract the antigens)
leave the solution standing for 2 minutes
remove the swab from the extraction tube while pressing it against the wall to squeeze out as much moisture as possible (the swab should be disposed of according to guidelines for handling infectious agents)
place a dropper on the extraction tube
remove the test cassette from the packaging, place it on a clean, flat surface and drip 2 drops of the liquid onto the provided place of the test cassette
wait exactly 15 minutes and read the result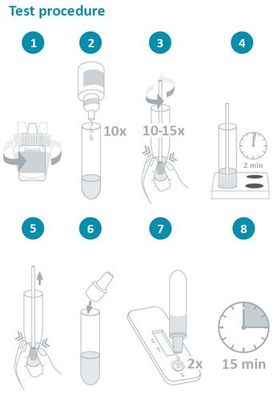 Specifications
The specificity and sensitivity were proven:
specificity : >99,9%
sensitivity : 80,2%
sensitivity in strong positive PCR samples (Ct value<=30): 97,6%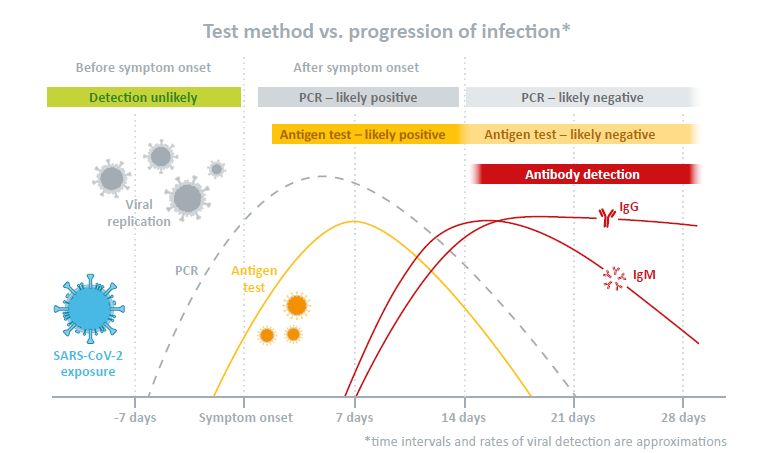 The COVID19 virus can be easily detected with the COVID-19 antigen test if symptoms are present.
From 7 days after the start of the symptoms, antibodies can already be detected with the
COVID-19 IgG/IgM rapid test
.