COVID-19 Antigen test
The AMP SARS-CoV-2 Ag rapid test allows rapid detection of SARS-CoV-2 via a nasopharyngeal sample.
The test detects viral nucleoprotein antigens of all known viral strains, including the UK, Indian and South-African strains.
The COVID-19 Antigen rapid test gives a result with 100% specificity and very high sensitivity (>97%) in only 15 minutes, representing a time saving of more than 98%.
The test is now deliverd with pre-filled extraction tubes, no more need for a seperate buffer dropper! This results in a faster and less error-prone result.
An antigen test checks for protein fragments of the virus and thus for its direct physical presence in the body.
Test procedure AMP SARS-CoV-2 Ag rapid test
The test is extremely easy to use:
Prepare the extraction buffer: fill the tube up to the mark (15 drops) Now with prefilled extraction tubes!
Take the nasopharyngeal sample
Immediately put the sample in the buffer, rotate at least 6 times while pressing the sample against the rim and bottom - let stand for 1 minute
Squeeze the moisture out of the swab through the walls of the tube as the sample is removed from the tube
Apply the dropper
Put 4 drops of the solution in the sample well (S)
Read the result after exactly 15 minutes
1 box of AMP Rapid Test SARS-CoV-2 Ag contains:
25 test cassettes
25 sterile swabs
25 buffer-prefilled extraction tubes with drop cap
reagent container
buffer liquid
manual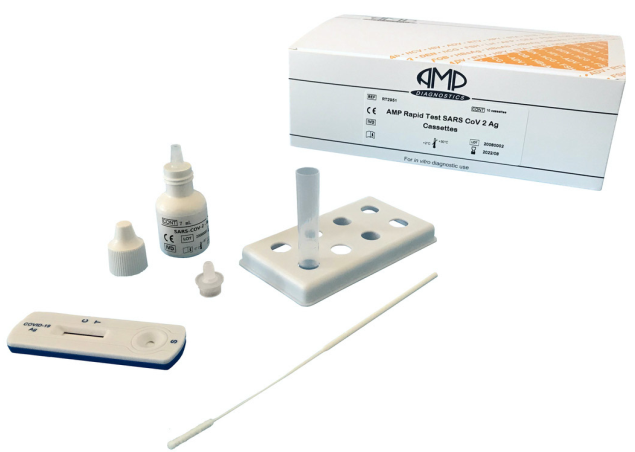 The use of this test is reserved for professionals.