CheckMe Healthmonitor
Medical Tricorder
Buy CheckMe Healthmonitor here
Measure
CheckMe is a small medical device that measures a range of physiological parameters.
ECG: ECG, HR, QRS, ST, arrhytmia
24h ECG holter recording: QT, QTc, HRV
Pulse oximeter: SpO2, PR, PI
Blood pressure tracker: systolic BP
Infrared thermometer
Daily check
Sport check
Sleep monitor
Pedometer: step counter
Reminder function
Calendar and clock

---
Connect
Connect CheckMe Pro and Holter to your Android or iOS mobile device with Bluetooth and keep track of your physiological parameters.
With the free app you can:
download
store
review
put your data in trend graphs.

---
---
Specifications
3 models: CheckMe Pro, CheckMe Holter and CheckMe Minimonitor
Touch screen Display
Bluetooth dual mode (support 4.0 BLE - Pro and Holter)
Connection to mobile iOS or Android devices (Pro and Holter)
Size: 88 x 56 x 13mm
Weight: <70g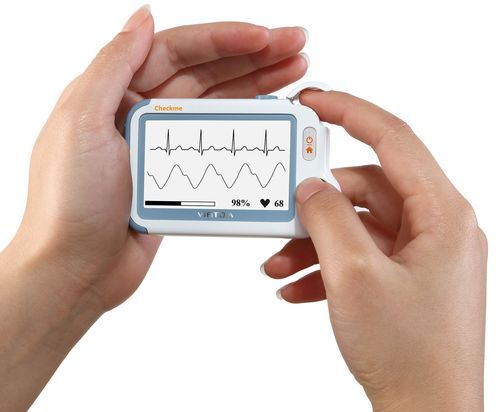 CheckMe Options
AirBP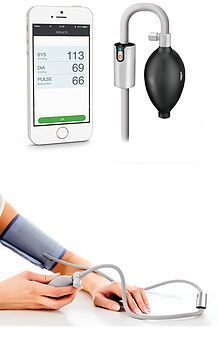 AirBP is a blood pressure monitor that can connect directly to CheckMe.
Holter Option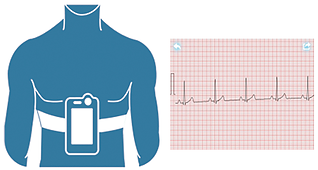 CheckMe Holter allows a 24 hour recording of a 1-lead ECG. The result can be downloaded on a Windows PC and the software will automatically find irregularities.
This option is available for CheckMe Holter and CheckMe Minimonitor.
Minimonitor Option
The minimonitor function allows to continuously streaming of SpO2 and ECG to a tablet PC or Windows PC for bedside monitoring.
This option is available for CheckMe Minimonitor and requires a special adapter which is included.
CheckMe Pro
CheckMe Holter
CheckMe Minimonitor
Display
2.7" HD touch

2.7" HD touch

2.7" HD touch

ECG without cable
+
+
+
ECG with cable (ST segment)
+
+
+
24 hour holter recording with analysis
-
+
+
Minimonitor
-
-
+
SpO2 without cable
+
+
+
SpO2 with cable
+
+
+
Sleep monitor
+
+
+
Temperature
+
+
+
Systolic Blood Pressure
+
+
+
Step Counter / Pedometer
+
+
+
Number of Users
max. 24
max. 24
max. 24
Reminders
+
+
+
Calender - Clock
+
+
+
Bluetooth
+
+
+
iOS and Android App
+
+
+
Voice Memo Recorder
+
+
+
Accessories
Neck Strap
+
+
+
Charger Cable
+
+
+
Desktop Stand
+
+
+
ECG Cable
+
+
+
External SpO2 sensor
+
+
+
Bracelet for Sleep Analysis
+
+
+
Minimonitor connector for
simultaneous monitoring
of ECG and SpO2
-
-
+