AirBP - Blood Pressure
AirBP is a small blood pressure monitor with wireless connection to the smartphone.
The user pumps up the appliance himself, making it very energy efficient. In addition, the internal battery can be charged via the supplied cable at the USB port.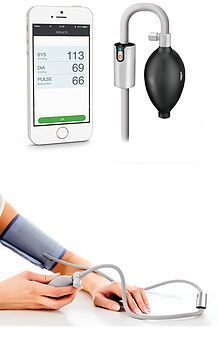 Technical specifications
The device weighs only 160 grams and can send the results wirelessly to the free app on the smartphone (Android or iOS).
AirBP can also be directly linked to a CheckMe Pro so that the blood pressure values ​​are displayed in CheckMe and in the CheckMe app.
Dimensions: 120mm x 60mm
Weight: 160 gram
Pressure range: 20-280mm Hg
Accuracy: +/- 3mm Hg or 2% (whichever is greater)
Pulse range: 30 - 250bpm
Pulse Accuracy: +/- 2bpm or 2% (whichever is greater)
Cuff suitable for upper arm circumference between 22cm and 32cm
Inflation: manually
Water resistance: IP22
Power supply: USB rechargeable, 500 measurements on 1 charge
Wireless: Bluetooth 4.0 BLE
App: Android or iOS
Packaging: device, cuff, cable, manual