Fingerpulse Oximeter
Fingerpulse Pulse Oximeter is a new, small and very functional pulse oximetry device.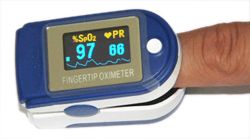 The display mode and intensity of the screen can be adapted.
Fingerpulse Oximeter works on 2 AAA batteries.
Fingerpulse Oximeter Specs
30 hours of spot measurements on only 2 AAA batteries
6 display modes
10 light intensities of the screen
Saturation graph on the screen
Simple manipulation: only 1 button
Automatic power-off after 8 seconds
Very good price!
Fingerpulse offers the possibility to change the screen's display mode. There are 6 possibilities: