VO2Master
Affordable ergospirometry for physicians, trainers and athletes
VO2Master is the world's smallest ergospirometry device. It brings ergospirometry in reach of every sports physician, personal trainer and athlete. With the reliable and portable device VO2 can be measured during training in the field. The complete device is contained in the face mask and there are no tubes, wires or carying bags.Measurement is performed in real-time and data is streamed live to a smartphone.
Unique specifications
Single enclosure design.
The entire device is contained in the face mask
Aerodynamic design that conforms to the face.
No cables, no tubes, no hassle
Free iPhone/iPad app for real-time streaming of the results (Android app in development)
Affordable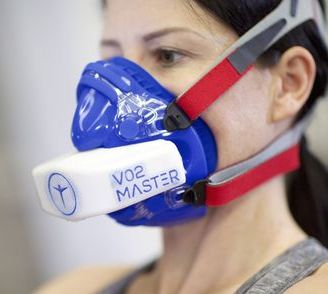 Versatile and accurate VO2 and breathing analysis
Same high quality galvanic oxygen sensing technology as used in industry standard lab equipment.
Direct measurement at the mouth results in accurate, repeatable data sampling.
A solenoid valve controls the flow of gas by the oxygen sensor, enabling automatic calibration, and device safety shut-off.
Every unit is meticulously standardized on industry-leading lung simulator prior to shipping.
Easy to replace single–use filter medium ensures sanitation between users.
Measured parameters
Respiratory Frequency (Rf - bpm)
Tidal volume (Tv - L)
Ventilation (Ve - L/min)
Fraction of Expired Oxygen (FeO2 %)
Exhaled Air Temperature (Temp - °C)
Volume of Oxygen Consumed (VO2 - mL/min)
Oxygen Sensor Humidity (Hum. O2 - %)