Spirobank II
Spirobank II
Multifunctional Microspirometer
Spirobank II is a new innovative spirometer from RDSM.
Spirobank II has an internal memory of no less 10.000 tests and can be equipped with an optional pulsoximeter.
Spirobank II can be connected to a PC using a USB connection.
Spirobank II
Specifications Spirobank II
Memory for 6.000 tests
Connection to a PC via serial or USB connection
BlueTooth connection to a printer or mobile phone
Internal temperature sensor for automatic conversion to BTPS conditions
High resolution graphical display
Patient identification via name or ID
Automatically stores 3 best tests
winspiroPRO software included
Spirometry data and flow-volume loop can be transmitted via email
No calibration necessary
iSpirometry iPad app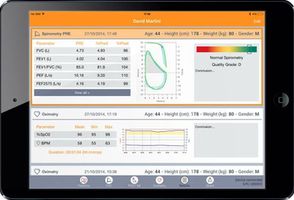 Thanks to the built-in Bluetooth Low Energy module Spirobank 2 can be connected to an iPad or iPad mini. The iSpirometry app shows the spirometry values FVC, FEV1, FEV1/FVC%, PEF, FEF25–75.
Optional Pulsoximeter
Spirobank II has an optionnal pulsoximeter. Following tests are availble:
Oximetry for 1.000 hours (=40 days)
Spot measurements or long measurements of SpO2 and heart rate
Calculation of ODI, NOD, T90%, T89%, T88% and T87%
Detection of sleep apnea with desaturation events
Walk test (6MWT) with SpO2 and heart rate analysis
Spirobank II measures following spirometry variables
Forced Vital Capacity :
FVC, FEV1, FEV1/FVC%, FEV6, FEV6%, PEF, FEF25, FEF50, FEF75, FEF25-75, FET, Vext, FIVC, FIV1, FIV1/FIVC%, PIF
Vital Capacity:
VC, IVC, IC, ERV, FEV1/VC% (Tiffeneau-index), Vt, Ve, Rf; ti, te, ti/t-tot, Vt/ti
Maximum Voluntary Ventilation :
MVV
Spirometry is more valuable in predicting premature death from heart attack than the ECG
T. Petty